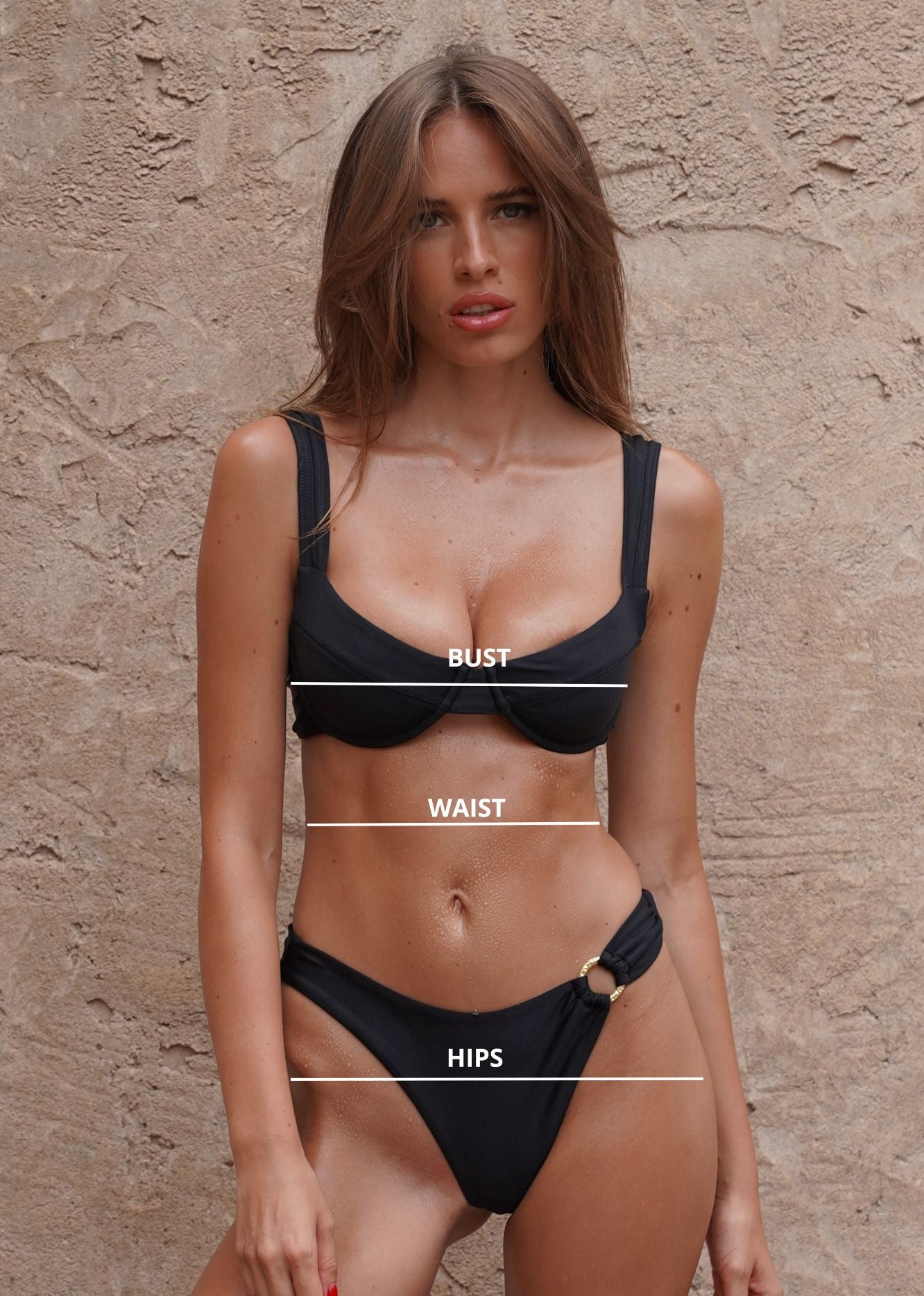 HOW TO MEASURE
Take your measurements using a soft measuring tape, ensuring it is parallel to the floor, and is snug but not too tight.
Bust
Measure around the fullest point of your bust with no bra on.
Waist
Measure around your natural waistline.
To find your natural waist, stand straight up and bend side to side, finding where your body creases.
Hips
Measure around the fullest part of your hips and bottom.
Try looking in the mirror while standing sideways to check the fullest part. 
BIKINI TOP FIT
| Size | Bust Size (in) | Bust Size (cm) | Cup Size |
| --- | --- | --- | --- |
| XS | 30 - 32 | 76 - 82 | A - B |
| S | 32 - 34 | 82 - 86 | B - C |
| M | 34 - 36 | 86 - 91 | C - D |
| L | 36 - 38 | 91 - 96.5 | D+ |
| XL | 38 - 40 | 96.5 - 101.5 | C - F |
BIKINI BOTTOMS FIT
| Size | Waist (in) | Waist (cm) | Hips (in) | Hips (cm) |
| --- | --- | --- | --- | --- |
| XS | 23 - 24.5 | 58 - 62 | 33.5 - 36 | 86 - 91 |
| S | 24.5 - 27 | 62 - 68 | 36 - 38 | 91 - 95 |
| M | 27 - 29 | 68 - 73.5 | 38 - 39 | 95 - 100 |
| L | 29 - 31 | 73.5 - 78.5 | 39 - 42 | 100 - 106 |
| XL | 31 - 33 | 78.5 - 83.5 | 42 - 44 | 106 - 112 |
READY-TO-WEAR FIT
| Size | Bust Size (in) | Bust Size (cm) | Cup Size |
| --- | --- | --- | --- |
| XS | 30 - 32 | 76 - 82 | A - B |
| S | 32 - 34 | 82 - 86 | B - C |
| M | 34 - 36 | 86 - 91 | C - D |
| L | 36 - 38 | 91 - 96.5 | D+ |
| XL | 38 - 40 | 96.5 - 101.5 | C - F |
| Size | Waist (in) | Waist (cm) | Hips (in) | Hips (cm) |
| --- | --- | --- | --- | --- |
| XS | 23 - 24.5 | 58 - 62 | 33.5 - 36 | 86 - 91 |
| S | 24.5 - 27 | 62 - 68 | 36 - 38 | 91 - 95 |
| M | 27 - 29 | 68 - 73.5 | 38 - 39 | 95 - 100 |
| L | 29 - 31 | 73.5 - 78.5 | 39 - 42 | 100 - 106 |
| XL | 31 - 33 | 78.5 - 83.5 | 42 - 44 | 106 - 112 |